Aída Herrera Peña
Design researcher
ABOUT
Aída Herrera Peña is a Berlin-based design researcher pursuing alternative ways of making and knowing. Her practice seeks to uncover social realities between humans and non-humans by the exploration of body language (e.g., body movement, gestures, memories), embodied experiences, and performative strategies.

She graduated as an industrial designer and media producer from the

Universidad Jorge Tadeo Lozano

(COL) , as well as a Design Researcher from the

Anhalt University of Applied Sciences

and

Bauhaus Dessau Foundation

in cooperation with Humboldt Universität zu Berlin.
︎ Linkedin︎
︎ Vimeo︎
︎ Instagram︎
︎ hi@aidaherrerape.com
︎ Berlin, DE
PROJECTS
---
Journey 2.1
~
Gestures of Domestic Memories: a performative way-of-knowing
Developed within the framework of Forecast Sixth Edition – Skills e.V. mentored by Mathilde Monnier 2021, D

E
Journey 2.0 ~ Checking/Browsing



Bauhaus Dessau Foundation. Bauhaus Study Rooms. 2020, DE
Journey 1.3 ~ On Performativity and Design

COOP Design Reseacrh MSc. program at Anhalt University of Applied Sciences and Bauhaus Dessau Foundation in cooperation with Humboldt Universität zu Berlin.
2020, DE
Journey 1.1 ~ Booklet Caiga en el Taxi
Self-produced
2020, DE (2014, COL)
COMING UP
---
LATEST

PERFORMANCES
27.10.22
Participatory performance Checking & Browsing as part of the panel Choreographies of Labour & Production at the

Dis/Assembly of Performative Things

Symposium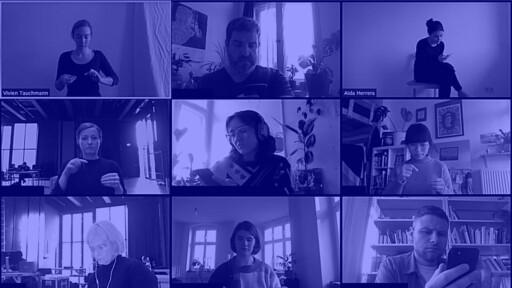 by Vivien Tauchmann & Aída Herrera Peña ︎ On-site format︎October 27th, 2022, at the artspace VIKA in Halle, DE
17.06.22
Roundtable I have a problem with cleanliness at the Bauhaus Study Rooms 2022
with Adam Drazin (Moderator), Charlie-Anne Côté and Nancy Dayanne Valladares ︎ Hybrid format ︎ June 17th, 2022 at Stiftung Bauhaus Dessau, DE
---
LATEST

PUBLICATIONS
23.02.2022
Contribution to Visualizing the Virus

with an online pubilcation about the project Gestures of Domestic Memories
Online publication︎February 23rd, 2022